A royal by any other name would appear as non-traditional. 
Prince Harry and Meghan Markle introduced the world to the newest member of the royal family on Wednesday, after welcoming baby Sussex on May 6. And soon after their son officially met his grandmother Queen Elizabeth II for the first time, the couple announced his name: Archie Harrison Mountbatten-Windsor.
Their pick was unusual and surprising, going against many of the most popular theories for a name that is totally unique in the royal family, a rare feat. 
Or is it that rare, considering Archie is rumored to possibly be the nickname of another royal, one of the infant's cousins? 
So why did Harry and Meghan choose the name Archie, bucking the longstanding tradition of choosing a name that has been passed down through the royal family for centuries? Plus, what is Prince Harry's real name? We did some research on the sentimental and sometimes surprising meaning of some of the members of the royal family's names, including three future kings and one former king who had to change his name after his time to rule had come…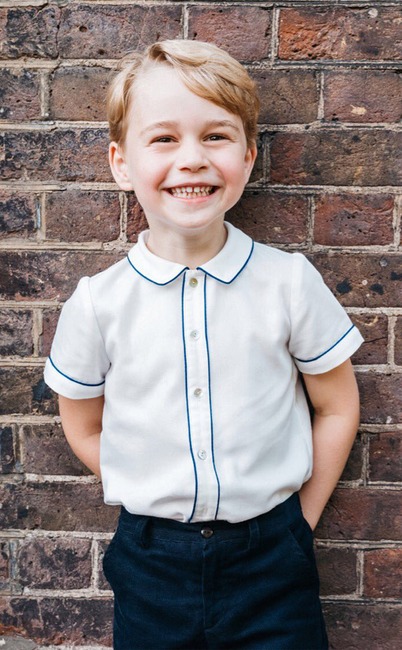 Matt Porteous/Kensington Palace/Twitter
Prince George of Cambridge

Third in line to the throne, the 5-year-old's full name George Alexander Louis shares direct commonalities with fellow heirs. 
He was named after Queen Elizabeth's father King George VI (whose original name was Albert before he took the throne), among many others as he'd actually be the monarchy's seventh King George, and he and his father, William, both share Louis in their full names, with William and Kate eventually choosing the name for their next son, which also was the first name of Prince Philip's beloved late uncle Louis Mountbatten, whom he adopted his surname from.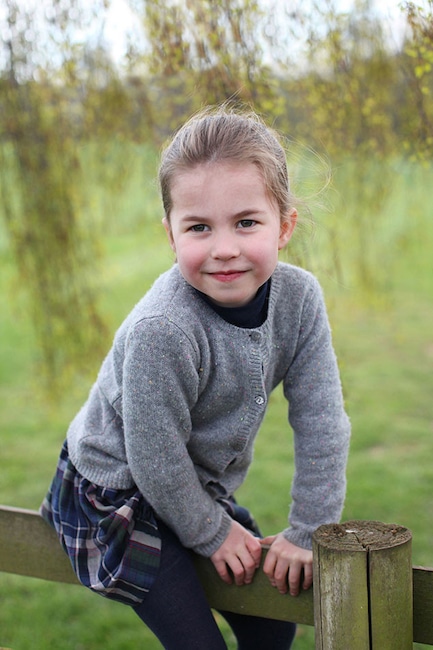 The Duchess of Cambridge
Princess Charlotte of Cambridge

William and Kate's daughter's full name—Charlotte Elizabeth Diana—is filled with poignant tributes to many of her family members. 
Charlotte is believed to be a nod to Prince Charles, and also happens to me the middle name of Kate's sister and grandmother. Elizabeth is clearly a reference to Queen Elizabeth, her great-grandmother, while Diana is also another clear tribute, paying respect to William's late mother, Princess Diana.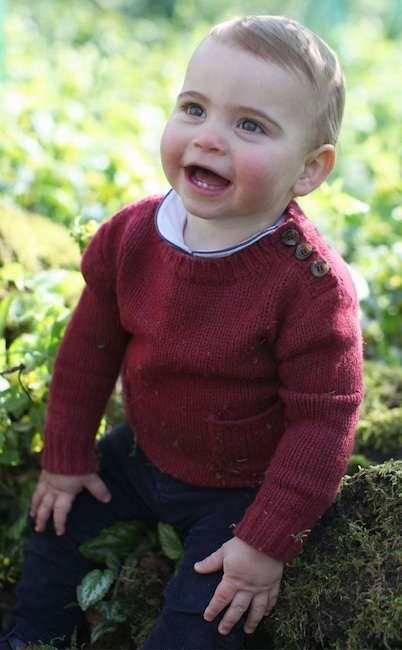 Duchess of Cambridge/PA Wire
Prince Louis of Cambridge

"The Duke and Duchess of Cambridge are delighted to announce that they have named their son Louis Arthur Charles," Kensington Palace announced in April 2018, shortly after the birth of William and Kate's third child. "The baby will be known as His Royal Highness Prince Louis of Cambridge."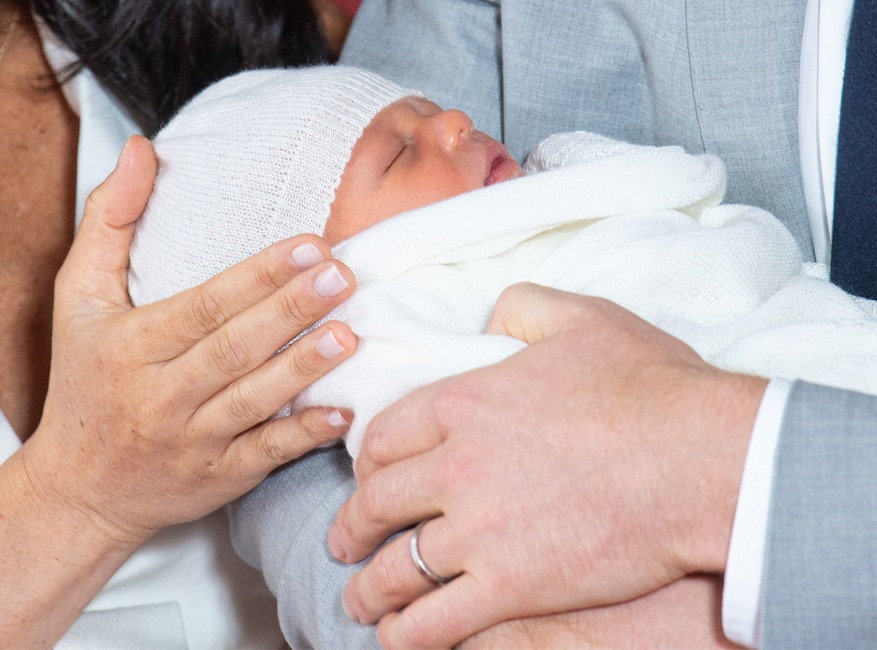 Dominic Lipinski/PA Wire
Archie Harrison Mountbatten-Windsor

Harry and Meghan shocked many when they announced the name of their first child. While Archie is actually a quite common name in the U.K., cracking the Top 20 list of names for boys in 2017, it's rare among the royal family. 
The couple has yet to publicly comment on whether or not Archie is short for Archibald, though it doesn't seem likely as their Instagram post announcing his name didn't suggest it was a nickname. According to nameberry.com, Archie means "truly brave" and is of German origin. 
The choice even stumped royal experts, with historian Marlene Koenig telling E! News, "This is a most unusual choice [of name], but I am not surprised because I have said that they would go out of the box. There are no Archies or Archibalds in the family. I have said a few times that the parents of non-royals seem to have more leeway, more freedom." (It is worth noting that Princee Diana has an ancestor named Archibald Campbell, 9th Earl of Argyll of Scotland.)
There is one surprising connection Archie has to the royal family, that comes from an unexpected source: Prince George, who told a woman back in January that his nickname was Archie. Was it actually a spoiler?!
 "I was asked by a police minder not to take a photo of the children, which I didn't, but George started stroking my dog. Just to be friendly I engaged in a bit of small talk and I asked George what his name was, even though obviously I knew it," the woman told The Sun. "To my astonishment he said 'I'm called Archie' with a big smile on his face. I don't know why he calls himself Archie but kids often play with their names and I think it's lovely."
As for the rest of Baby Sussex's name: Harrison literally means "son of Harry," while Mountbatten is the adopted surname of Prince Philip, and Windsor is the last name of the queen's male-line descendants who do not have royal styles and titles. After her ascension, Queen Elizabeth combined their surnames, with all future descendants taking on the hyphenated name.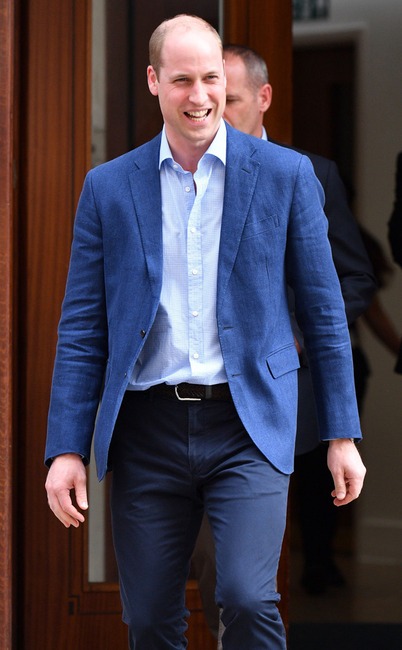 Tim Rooke/REX/Shutterstock
Prince William

Like so many royals, the future King of England's full name, William Arthur Philip Louis, is filled with traditional names, including Philip as a nod to his grandfather, Arthur, which he shares with Prince Charles, and Louis, which he passed down to his two sons as well.
In the 1992 book Diana: Her Story, it was revealed that Princess Diana actually picked her two sons' names after vetoing Prince Charles' picks. 
When she was asked, "Who chose [Harry's] name?," Diana answered, "I did… chose William and Harry, but Charles did the rest." She also revealed Charles' original picks: "He wanted Albert and Arthur, and I said no. Too old!" (Sorry, ancestors.)
After his 2011 wedding to Kate, he took on the official title of Duke of Cambridge, which replaced Prince of Wales.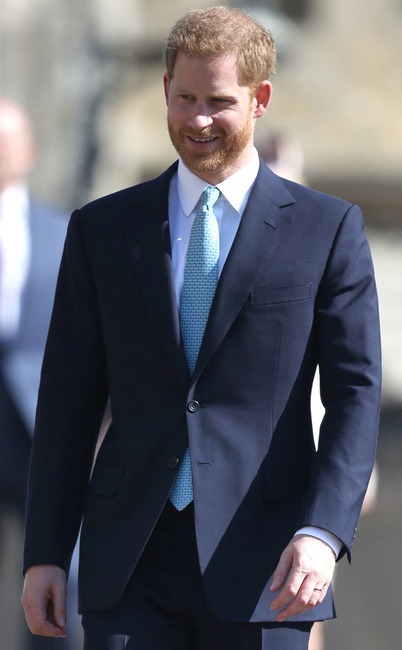 Ian Vogler/Daily Mirror/PA Wire
Prince Harry

Betcha forget Prince Harry's name actually isn't Harry, but Henry Charles Albert David. 
Officially styled Prince Henry of Wales when he was born in September 1984, but known as Prince Harry, with many often forgetting his real name is Henry as Prince Charles and Princess Diana explained he would be just "Harry" to his family and friends when they announced his birth. From then on, he was referred to as Prince Harry by Kensington Palace and the press. 
After his wedding, Harry's title changed from Prince of Wales to Duke of Sussex.
Henry is a name with a long history in the royal family, Charles, of course, is his father's name, and Albert was the name of one of Harry's great great great great-grandfathers.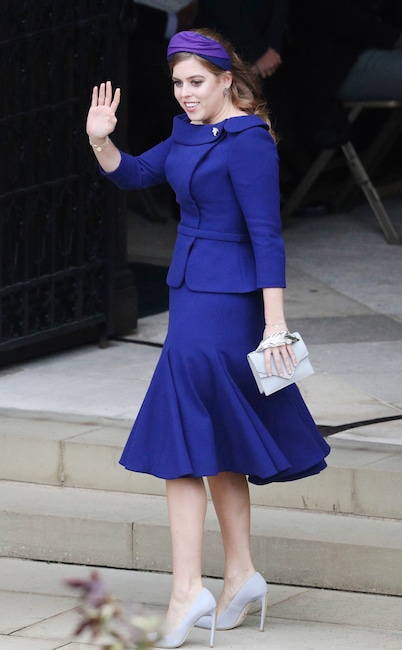 Andrew Matthews/PA Wire
Princess Beatrice

Prince Andrew, Duke of York, and Sarah Ferguson, Duchess of York, welcomed their first child in 1988, definitely threw people for a loop when they announced her name: Beatrice Elizabeth Mary. 
Beatrice, which means she who brings happiness," was the name of Queen Victoria's fifth daughter, was far from odds-makers' radar when they were predicting Queen Elizabeth's fifth grandchild's name. Elizabeth, of course, is her grandmother's name, and she shares Mary with her grandmother. (Queen Elizabeth's father's mother was Mary of Teck.)
When Andrew's younger brother Prince Edward welcomed his two children with Sophie Rhys Jones, the Queen decided they would be known as Lady Louise Windsor and James, Viscount Severn, rather then give them the title of princess or prince.
Beatrice and Eugenie, however, were given HRH (Her Royal Highness) titles, which the Queen approved.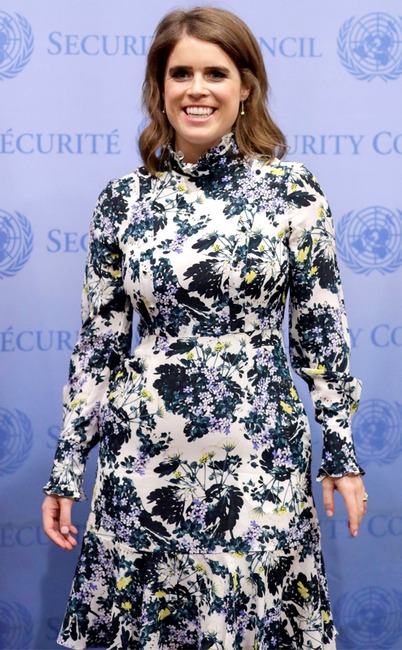 Europa Newswire/Shutterstock
Princess Eugenie

For their second daughter, Prince Andrew and Sarah returned to the Victorian era for all three names, with Eugenie Victoria and Helena all stemming from Queen Victoria's reign in the 19th century.
Eugenie was Queen Victoria's granddaughter (whose mother was Princess Beatrice, the queen's ninth and final child), while Helena was her third daughter's name. Queen Victoria's first child's name? Princess Victoria, though her first son King Edward VII would become her successor. Princess Victoria would go on to become the Queen of Spain. 
When Eugenie wed Jack Brooksbank, the Queen opted not to give him an official title. Duke, Earl or Prince to his name, Jack will be referred to as Mister. 
Though they are princesses, Beatrice and Eugenie are "working royals," which means meaning they, along with their significant others, won't ever carry out official duties on behalf of the reigning monarch.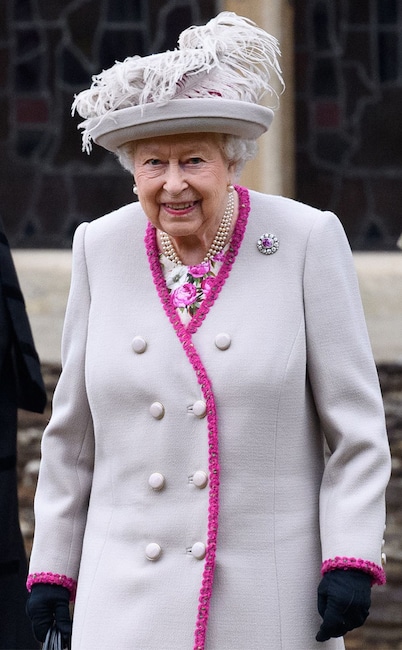 Tim Rooke/Shutterstock
Queen Elizabeth II

Queen Elizabeth, 93, shares her first name with her mother, Elizabeth Bowes-Lyon (that's the Queen Mother to you), and the remaining names of her full name, Queen Elizabeth Alexandra Mary, also directly connect to her lineage, as they were the names of her grandmothers.
In case you were wondering, the longest-reigning British monarch's official title is Queen Elizabeth the Second, by the Grace of God Queen of this Realm and of Her other Realms and Territories, Head of the Commonwealth, Defender of the Faith.
Fun fact: It's royal protocol that all names given to members of the family much be approved by the reigning monarch. (Princess Margaret was originally intended to be named Princess Ann, but King George V disapproved.)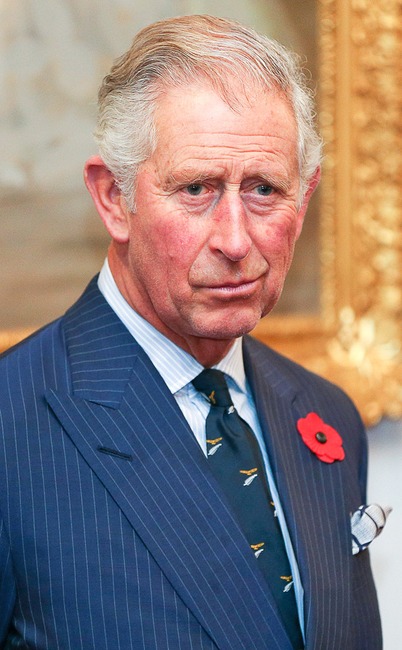 Hagen Hopkins/Getty Images
Prince Charles

Charles Philip Arthur George is the full name of the oldest (70) and longest-serving heir apparent in British history, set to succeed his mother Queen Elizabeth. 
His first name is one of the royal family's oldest names, going all the way back to the 17th century, while Philip is inspired by his father, the Duke of Edinburgh. Arthur and George are also names with major historical significance in the royal family, including his grandfather's full name.  
Formerly the Duke of Cornwall and Duke of Rothesay, Charles' official title is now Prince of Wales, a title he's held since 1958 (the longest an heir has ever held it for).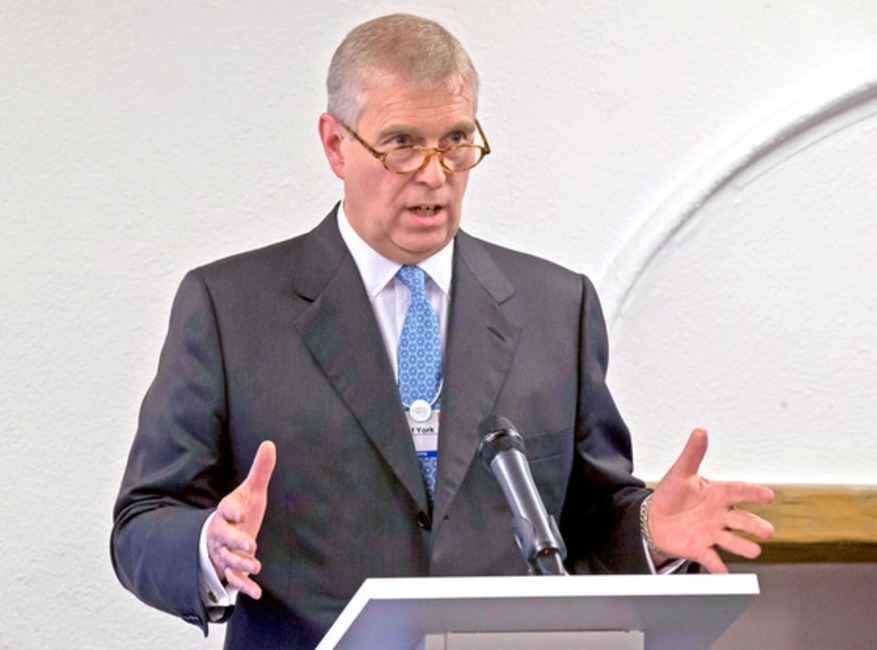 Michel Euler-WPA Pool/Getty Imaes
Prince Andrew

Queen Elizabeth's second son's full name is Andrew Albert Christian Edward, and he was likely named after his grandfather, Prince Andrew, the Prince of Denmark and Greece (though Prince Philip had a contentious relationship with his father). 
Albert was the name of Queen Elizabeth's father before he became king, with his name changing to George, while Edward was the name of his older brother, whose abdication changed the course of history for the royal family. 
After he wed Sarah Ferguson, Andrew became the Duke of York, which replaced his Prince of Wales title. 
Don't miss E! News every weeknight at 7, only on E!